December 25, 2022
Adrift. Untethered.
In memoriam, Carol Marie Colombo Warner. June 18, 1941, to November 14, 2022. Delivered as spoken eulogy on December 17, 2022, Hope Lutheran Church, Cranberry Twp, Butler PA. —by Todd Warner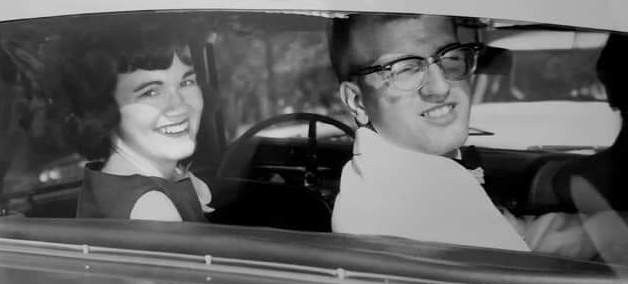 None of us want to be here today. I certainly don't want to be. I'm still mostly muddling about in the first two stages of grief: denial and anger, the other three being bargaining, depression, and acceptance. Maybe it'd be more accurate to say that I'm wrestling with all five simultaneously. But yeah, stage one, I'm still in a bit of denial that my mother is gone, and stage two, I'm really damn angry about it. Sure, we all know that any of us could go at any time. But November 14 was not supposed to be Mom's turn.
Dad. [I miss Dad]—he left us on January 21—but we saw it coming. The speed of his decline shocked us, for sure, but his passing was not utterly unexpected. Mom's passing, though, was akin to that proverbial bolt of lightning from the heavens. With Mom, I stand before you, still wrestling for the right words. The best I can come up with are circular streams of consciousness like this one.
These feelings are not foreign to many of you—perhaps most—but they are new to me.
Part of the acceptance process involves counting our blessings. So here I go: Mom lived a long and happy life. She was blessed with a body that knew no substantial disability. Mind you, substantial disability lurked right around the corner, both in body and mind. Part of me wants to say that the silver lining here is that she dodged all of that. But is that a blessing?
Maybe?
Maybe not. She dodged disability. But she also didn't have a choice in the matter. And I'm angry about that. People live with disability. Emphasis on live.
Another two blessings: Mom passed with family present. And, thank the gods, she did not suffer. Mom would have been home alone if this had happened just a week earlier.
She had only been in Japan for a few days visiting Eric and his family. We figured out the time zones, and I spoke to her every day. There was always such joy in her voice on those calls . . .
Mom was so smart. So well-read. She'd earned a science degree but also loved the arts and culture. Her curiosity knew no bounds. Ironically, she counter-balanced this fascinating mind of hers with a certain charming, indelible flightiness. Don't get me wrong; this contrast was one of my favorite things about her. Her brain was just so darn busy! My pet theory is that she struggled with some form of attention deficit disorder, though undiagnosed. But that was another thing about Mom: She could also be very stubborn; she refused to talk to a doctor about it.
She was interested in everything. And I mean everything on every topic imaginable. She and Dad were so alike in that way. And, being a people person, she was particularly drawn to others who were equally inquisitive and studious. During my dating years, she would harp at me: "Todd, you need to find a girl who reads, loves dogs, and is interested in things." She was joking. Mostly.
She was smart, curious, and funny (so very funny), but her most redeeming trait had to be her enormous heart. She saw the best in people, and she was all-forgiving. She and Dad donated their time to so many people and causes. She fed the homeless and donated to World Vision, even sponsoring a needy child in a far-off land. A stranger for whom they lent support from childhood to adulthood. She embraced her role as grandma, aunt, and mother to so many people—a friend and confidant to even more. Her legacy may be that she instilled in each of us kids a real drive to lead lives where we honored people as people.
. . . "I'm trying, Mom. Really!"
She left us so abruptly. It shocked us all. I heard the news, and my head spun, the breath rushing from my body as if the whole world had collapsed into a vacuum. Stumbling to my feet after a few days, the following week remained a blur. I was set adrift in a vast unknown sea, my rudder sheered off, my anchor line severed. My mother's story ended mid-sentence, cloaking my world in unfamiliar silence.
To be frank, it took me some time to right myself after spiraling. I just couldn't believe that I would now forever be unable to dial that number and talk to the woman who raised me.
And so.
She's gone.
I commiserated with Eric and Kristen. With my wife. I spoke to her friends. And from that, a dawning realization emerged. My mother left us, but she hasn't really vanished. Not entirely, anyway. If I look hard enough into my siblings' eyes—in all of your eyes—I see my mother and father staring back. This brings me some modicum of comfort. My parents had an impact. They left their stamp. They left the world slightly better than when they entered it—a world that now retains a tiny bit more love and compassion because of them. Their passing and this revelation are also timely reminders of how short life truly is and how our lives are forever entwined. Folks, we have to make the most of our brief time on this planet.
Thank you, all of you, for attending. And thank you for the wonderful words you and everyone else have shared with us already. You bring comfort to my family and me, and you honor our parents. Death, like life, is a shared experience . . . and eventually, in our own time, it will be our turn to pass beyond the veil. Sometimes it is peaceful. Often it is not. And it is never easy to bear alone, neither for those moving on nor for those who remain. And for that, we thank you. Your support reminds us that we are not alone and that our parents were well-loved. And that means the world to me—to all of us.
🙞 🙜