June 12, 2019
farm ~ hack ~ write ~ real estate
Reflections on my life in farming, tech, writing, and real estate.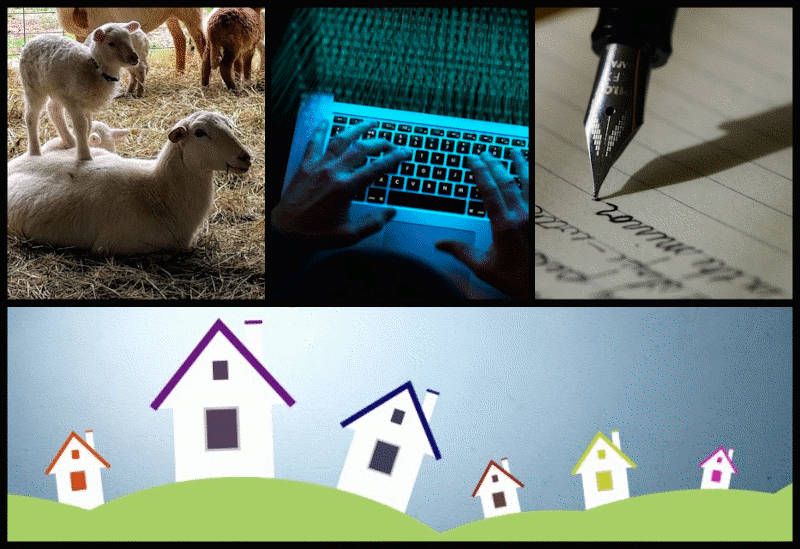 Published June 12, 2019 — Updated December 12, 2019
And so begins a new blog . . .
My "new year" starts on April 27th, the day that marks the anniversary of my departure from the corporate rat race (April 27, 2017). And with a new year comes new year resolutions. Two decades in the tech industry were both rewarding and soul sucking. Onward!
One particularly significant resolution is a vow to write more often and with intentionality. For all these years, I simply haven't had the time to write. Like really write. My "creative time" was very limited. Now that I am out of the corporate world, I have been given the opportunity to shift focus more towards pursuits that are truly rewarding and that fall in the "creative" category: writing and some of my side technical projects. Those two activities along with farming and real estate (I am also a licensed real estate broker), now round out my core areas of focus — ⮎ farm ⤑ hack ⤑ write ⤑ real estate ⮌
This blog will probably lean more towards discussion of writing and my writing pursuits but with a big dollop of the other topics as well. As you can imagine though, what you do in life often ends up on the page.
Farming
Tandem Farms is a superset of activities that, at one point, was primarily focused on honey bees. We have since branched out and the farm is now far more polycultural: sheep, chickens, honey bees. Someday we hope it expands even further (fruit and limited produce, for example). We'll see. You can find us at https://tandemfarms.ag (not a completed site yet) and https://www.carolinabees.com (soon to be deprecated in favor of the Tandem Farms site linked to above).
Living on the farm really is a subset of outdoorsy activities. I also love to hunt, fish, walk and hike, flip over rocks, look at trees, and poke things with sticks. So . . . there may be some of that on this blog as well. Maybe even in the form of poetry or literary prose.
Technical Work
I am a diehard Fedora Linux user. I have been a linux guy since . . . 1996 (Red Hat Linux 3.0.3). Geez. How quickly one becomes an "old man" in the world of tech. I don't have a "tech site" per ce, but the geeks can geek out over the super geeky https://keybase.io/toddwarner profile I maintain if they wish. It leads to things . . .
I also maintain a pile of RPMs built for Fedora Linux. You can find them via my Github page. Amongst the RPM-focused repos there, there are other projects as well. Of note is a "howto" repo that describes how I do things like... install the Ghost blogging platform on Fedora Linux. You are probably reading this article right now on my blogsite powered by the Ghost blogging application running on top of Fedora Linux. Associated to the blog, my technical work, and writing is Joplin. Joplin is an outstanding "notebook manager" (it runs on Linux, Windows, Mac, Android, and iPhone as well). Check out my builds for Joplin here. I am writing this article in a Joplin editor window now, in fact. It's my favorite markdown editor and "notebook manager" (kinda like Evernote). It provides a nice clean markdown-editing interface and end-to-end security that syncs everything with all your devices. If I am not writing via pen-and-paper, I am writing in Joplin.
I also have some other technical projects in the works. It will give me something to blog about if they ever go anywhere.
Real Estate
Tandem Realty. My lovely wife (Monica) and I are teamed up and serve folks looking to buy or sell a home or land. Check out our dedicated page here: https://tandem.realty/. And follow us on Facebook and Instagram: https://www.facebook.com/TandemRealtyTeam and https://www.instagram.com/tandem_realty/. Let us know if you or a loved one is looking to buy or sell a home. We can help you.
Writing
Errant Ruminant. I have always been a writer. Journaling; a ton of copy for the corporate world; some published articles—and now that I have time, I have also been writing some poetry and working on a novel. There will be short stories, essays, technical articles (reference the howto repository mentioned previously), etc. One has to be careful though when posting written material that is a candidate for publishing (I have two poems submitted to a literary journal right now, in fact). This blog will be more about process, though I will probably share snippets and teasers and things. Oh! And a blog. A blog is writing. :)
---
Todd can often be found typing away in various cafes and libraries scattered throughout the North Carolina Piedmont, but more often then not, you can find him tied to his writer's desk at home on the farm. If you wish to contact Todd, please find contact details here.